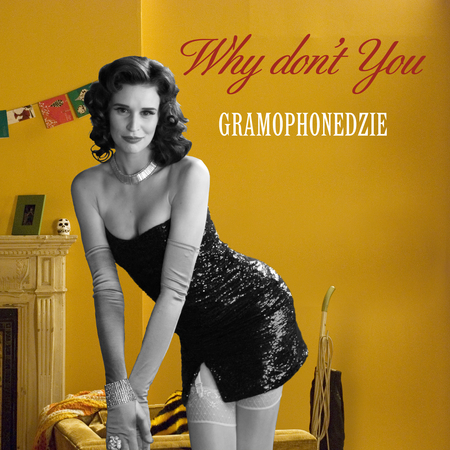 &


'Why Dont You'

Gramophonedzie has delivered one of the most distinctive club bombs of the year with 'Why Don't You'. Already an Ibiza 2009 anthem and used as a dance-floor weapon of choice by the likes of Tony Humphries, Roger Sanchez, DJ Sneak, Kevin Saunderson, Carl Cox, Dennis Ferrer, and Norman Jay, 'Why Don't You' receives a full mainstream release on February 22nd on Virgin / Positiva Records.

An addictive concoction of house, funk and classic swing, Gramophonedzie – better known as Serbian producer and DJ Marko Milicevic – built 'Why Don't You' around a sample from Peggy Lee's famous take on the Kansas Joe McCoy blues standard 'Why Don't You Do Right?'.

In addition to the original there are some fine remixes from DJ Sneak, Bingo Players, Trevor Loveys and GreenMoney.

Gramophonedzie's take on 'Why Don't You' originally appeared on the 'Swingin' With The Fishes' vinyl release that was issued by San Francisco underground house specialists Guesthouse Records. The song's glorious history includes prior versions by Ella Fitzgerald, Kiri Te Kanawa, Sinead O'Connor and Ashlee Simpson, as well as a famous performance by Jessica Rabbit in Eighties family film hit 'Who Framed Roger Rabbit?'

Marko Milicevic has performed alongside Basement Jaxx, Roger Sanchez, Bob Sinclair, Derrick Carter and David Morales. His prior releases have graced labels including DiskoZoo Records, Gotta Keep Faith Records and Yakuza Records, while he also holds the distinction of producing the theme song for the Balkan franchises of Big Brother.

Set to be one of 2010's biggest crossover hits, 'Why Don't You' provides the perfect feel-good antidote to the January blues.