Positiva Celebrate Having Biggest Radio Hit of the Decade
They beat Celebrity Big Brother's Dane Bowers and Victoria Beckham in 2000, now ten years on and they've beaten the likes of Robbie Williams and Stereophonics for a new number-one title.
This week, industry publication, Music Week, unveiled news that Spiller's ubiquitous radio anthem, 'Groovejet (If This Ain't Love)' featuring Sophie Ellis Bexter, has emerged as the UK's biggest radio hit of the noughties.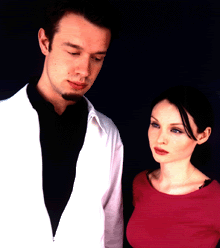 Mojo's 'Lady' emerged as the second biggest hit scoring a triumph for dance music, with both producers' records seeing off competition from big hitters like Kylie 'Can't Get You Out Of My Head' (3), Robbie Williams 'Rock DJ' (4), and Beyonce 'Crazy In Love' (5).
'Groovejet (If This Ain't Love)' was released on Positiva in the Summer of 2000. Debuting at No.1 on the UK Top-40 chart, the Groovejet anthem faced huge competition for the top-spt from Celebrity Big Brother Dane Bowers' collaboration with Victoria Beckham, 'Out of Your Mind'. Both tracks were the focus of a fierce and widely publicized chart battle, with Groovejet and Sophie Ellis Bexter being the eventual victors.
'Groovejet (If This Ain't Love)' has since racked up an incredible 150,606 plays on the radio. Or, to put it another way, been played on average over 40-times a day!